Interview mit Rand Fishkin im Mozplex, Seattle, USA
[ 33:54 ]
Download
(3371)
In dieser Ausgabe spricht Andre mit Rand Fishkin, dem Wizard of Moz, den Andre dafür in seinem Büro in Seattle besucht hat. Rand gehört zu den bestbekannten und meistbeachtetsten SEO-Experten der USA und weltweit, ist Autor des Buchs "The Art of SEO" und ein häufiger Speaker auf Konferenzen, wie der Mozcon, SearchLove Conference oder Online Marketing Rockstars.
Wenn du das Interview lieber lesen möchte, findest du auf akm3.de eine vollständige Abschrift des Interviews.
Verpasst auch nicht Rands exklusiven SEO-Dinner-Talk, den er bei der Online Marketing Rockstars 2014 gegeben hat.
Darüber hinaus findest du das Interview auch bei iTunes und auf Youtube als Videocast.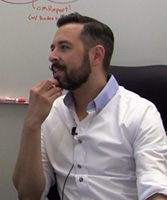 Folge OMReport auch auf auf Facebook und Twitter oder per RSS, um immer über die neusten Interviews informiert zu sein.